Links
Enjoy surfing these links. Many of them are filled with helpful tips, resource for
equipment or food, recipes, testimonials, training classes, etc. If you contact any
of these people, let them know that you found them on the Raw Energy web site!
The largest community on the internet dedicated to educating you on the power of
living and raw food -
http://www.living-foods.com/recipes/
Great magazine – my personal favorite -
http://www.justeatanapple.com/
Great resources, news and resource links -
http://www.rawfoodsnews.com/index.php
This is a great sight by a raw chef. Lists books, resources, food product sources,
chef training and interships:
http://www.rawchef.com/
A magazine, books, great articles, health shop, testimonials, connections, potlucks
across the US, events, receipes, career and income ops, etc - -
http://www.livingnutrition.com/
A great site packed with testimonials, books (online electronic ones – cheaper that paper)
http://www.thegardendiet.com
Raw secrets, magazine, articles, faq's, books, recipes, resources -
http://www.rawvegan.com
This author turned her life around from disease – read all about it -
http://www.rawandjuicy.com/
Documentation of a fun journey and guide to compassionate and healthful eating,
includes recipes -
http://www.all-creatures.org/recipes/intro.html
Recipes, coupons, articles, newsletter, personals -
http://vegweb.com/

San Francisco living food enthusiast -
http://www.living-foods.com/sflife/schedule.html
Raw in Seattle -
http://www.rawseattle.org/
The TRUTH about coffee and a great alternative:
http://www.teeccino.com/
A site about supplements and the impacts on the body -
http://foodsupplements.homestead.com/index.html
The Linus Pauling Institute -
http://lpi.oregonstate.edu/
Health, recipes, products -
http://www.gotohealth.com/
A site with some good recipes -
http://www.thesommerians.com/
Recipes, encyclopedia, equipment, events, faq's, how to, links, organizations,
people and testimonials -

Vegetarian society of Richmond VA

Sustainable Agriculture Network

EQUIPMENT – supposedly the best prices on blenders, dehydrators, juicers, etc -
http://www.rawguru.com/
And another site for juicing equipment:
http://www.bestjuicers.com/
Superstore, equipment, health care, books, music, organic food, supplements,
tapes/cd's, videos, testimonials, personals, retreats, events -
http://www.rawfood.com/
Cool stuff from New Zealand -
http://www.livingnature.com/
The Veggie Network -
http://www.theveggienetwork.com/
Truth about cancer causing Acrylamide - find out which foods have this chemical!
http://www.cspinet.org/new/200206251.html

Recipes, daily food journal, book lists, website links, others' raw journey daily journals, facts/tips, and more in this link:
http://www.FromSADtoRAW.com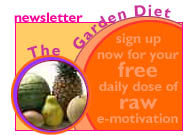 Sign up for daily free raw-vegan e-motivation sent directly to your email!


"Nutman Goes Dead Off!" is a CD that appeals to the common sense of young people,
getting them to think about what they put into their bodies, and where their diets will lead
them! Funny, cutting, for the hiphop crowd. Not recommended for those under 18.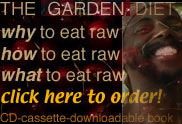 The Garden Diet eBook - The Definitive Guide to the Raw-Vegan way of eating. Why, How and What to eat raw! Recipes, work-outs, tips for conquering cravings, scientific backing, etc...Now only $10 direct to your inbox! Includes a free music CD by the authors. Proceeds fund the "Take A Fruit Break" campaign to air commercials that get kids to eat more fruit!


Online Course and Raw Food Bootcamp Retreat
Online Raw Chef Certification plus 3 other Live Food Certifications! Includes Free Raw Food Bootcamp Retreat!